Join the iTEENS program for a new winter break experience – iTEENS Hike Santa Clarita!
iTEENS provides a variety of free activities for 13-18 year olds including a homework lab, enrichment opportunities, volunteer projects and many other educational workshops and outings.
In  early January, iTEENS Hike Santa Clarita will explore two of the City's Open Spaces for two days of fun and educational hiking, weather permitting.  Exploring Quigley Canyon Open Space, teens will be able to learn about the importance of Southern California's native plants and animals and learning about trail etiquette. The next day, teens will get a chance to learn about the importance of wildfires to the Southern California ecosystems by hiking in the recently burned East Walker Ranch and Golden Valley Ranch Open Spaces.
To learn more and sign up, by Wednesday December 28, 2016 visit santa-clarita.com/NCC or call 661-286-4006.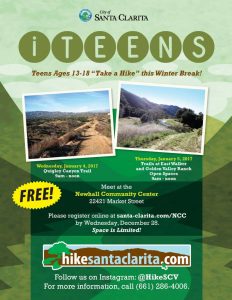 ---
SHARE THIS: