Hey all you hikers, mountain bikers and outdoor enthusiasts: Please welcome Dr. Norm Herr, a local professor, who will answer your questions on this site.
We want to encourage you to get out and enjoy all the great open space in and around Santa Clarita, but we realize that in doing so, you may have some questions about things you see out on the trail.  Author, teacher, scientist, avid hiker and outdoorsman, CSUN Professor Norman Herr is happy to answer your most obscure questions about Mother Earth.  As you enjoy the beautiful Santa Clarita open space areas and have questions about flora, fauna, animals, rocks, etc., send them to Dr. Norm.  You may pose your question below; it will be answered on this page. If you wish to include a photo with your question, upload it to Flickr and share the link to the photo in your comment.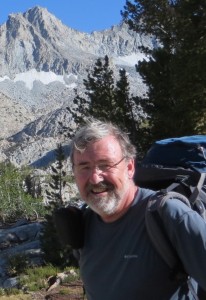 A little bit about Dr. Norm:  Norman Herr, Ph.D., is a professor of science and computer education at California State University, Northridge. He earned his doctorate from the University of California, Los Angeles, and has worked as a scientist, high school science teacher, college science instructor, science education consultant, and director of graduate programs in science education. Dr. Herr has published research in the field of science education, and has co-authored Hands-On Physics Activities with Real-Life Applications, and Hands-On Chemistry Activities with Real-Life Applications.  Norm is the author of the Sourcebook for Teaching Science. He grew up at the foot of the San Gabriel Mountains and has spent untold hours exploring the California mountains.
Norm says: I could never decide which science I liked best, so I ended up studying them all! My job as a professor of science education unites my love for physics, chemistry, biology and environmental science with my love for teaching and research. I love to spend time outdoors, whether skiing, mountain climbing, mountain biking, backpacking, or hiking.