Downloadable PDF Trail Map:


Preferred Conceptual Plan Approved
On Tuesday, September 10, the City Council approved the preferred concept plan for Rivendale Park and Open Space.  The plan identifies improvements on approximately 14 acres of the 60‑acre park property, leaving the majority of the site in its natural state.  The master plan includes the following improvements:
Parking will be increased from the existing 107 spaces to approximately 311 spaces
Over 2.5 miles of new trails and trailhead enhancements
Cultural/educational use area
Amphitheater with 300-400 fixed seats plus grass seating
Three small restrooms
Next steps to implement the master plan begin with identifying funding for design and permitting, obtaining a Conditional Use Permit (CUP), and design and preparation of plans and specifications.  Obtaining the CUP requires conducting environmental studies, completing a California Environmental Quality Act (CEQA) Review, and finally achieving CUP approval.
Approved Rivendale Master Plan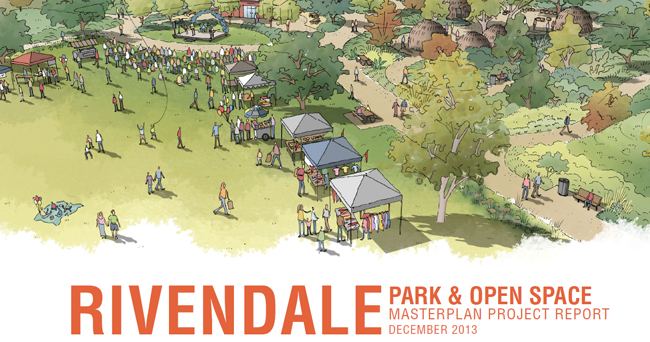 Final Concept Plan Map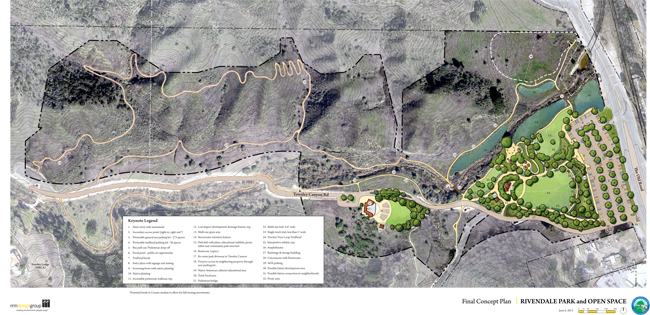 Stay tuned for more updates about Rivendale Park and Open Space.
For questions or more information on the Rivendale Park and Open Space Master Plan, please contact Tom Reilly at treilly@santa-clarita.com or (661) 255-4394.