Downloadable PDF Trail Map:


Preferred Conceptual Plan Approved
On Tuesday, September 10, the City Council approved the preferred concept plan for Rivendale Park and Open Space.  The plan identifies improvements on approximately 14 acres of the 60‑acre park property, leaving the majority of the site in its natural state.  The master plan includes the following improvements:
Parking will be increased from the existing 107 spaces to approximately 311 spaces
Over 2.5 miles of new trails and trailhead enhancements
Cultural/educational use area
Amphitheater with 300-400 fixed seats plus grass seating
Three small restrooms
Next steps to implement the master plan begin with identifying funding for design and permitting, obtaining a Conditional Use Permit (CUP), and design and preparation of plans and specifications.  Obtaining the CUP requires conducting environmental studies, completing a California Environmental Quality Act (CEQA) Review, and finally achieving CUP approval.
Approved Rivendale Master Plan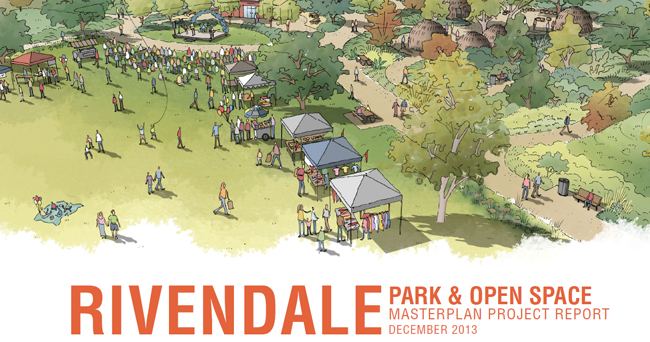 Final Concept Plan Map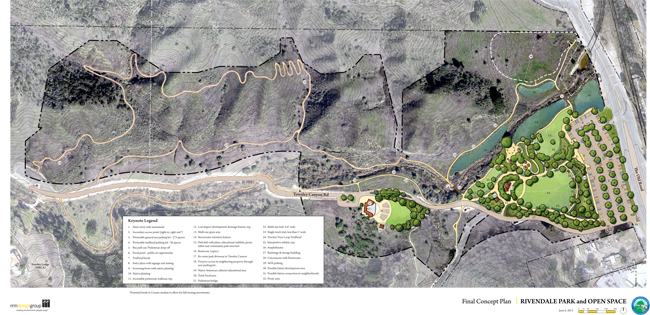 New Parking Lot Now Open at Rivendale Park and Open Space
Nearly 100 Free Parking Spaces Now Available Near Popular Hiking Trails
Post Date:
02/16/2016 2:29 PM
Trail explorers will now have access to nearly 100 new parking spaces when visiting the popular Towsley Canyon trails in Santa Clarita.  The new gravel parking lot extension is free and open to the public. Residents are encouraged to take advantage of this new convenient amenity.
Before the City's purchase of the property in the late 1990s, the parking lot area was previously known as Rivendale Ranch and was occupied with abandoned structures from a prior use as an equestrian event arena.  The 60 acre property was the subject of a City–led master planning effort in 2013 which established the long term plan for the property now called Rivendale Park and Open Space.
Last fall, the City cleared the unsafe, aging, red-tagged structures that have been an eyesore at this location for many years. This work not only addressed a safety issue, but by returning the site to a more natural state, it restores the groundwater recharge potential of the site. Materials from the clearing were recycled and diverted from the landfill as much as possible.
The new parking lot opened last week and in a few weeks is scheduled to receive lodge pole fencing surrounding the perimeter and a new trailhead kiosk. At that time, the City will also open an additional 118 acres just north of the property which contains a new 2.3 mile loop trail.
These improvements are consistent with the approved Master Plan for Rivendale Park and Open Space.  In addition to the parking lot and new loop trail, the plan includes improvements construction of a cultural/educational use area, an amphitheater and restrooms.
Stay tuned for more updates about Rivendale Park and Open Space.
For questions or more information on the Rivendale Park and Open Space Master Plan, please contact Tom Reilly at treilly@santa-clarita.com or (661) 255-4394.
---
SHARE THIS: