Downloadable PDF Trail Map: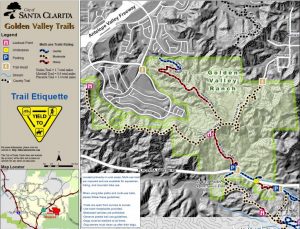 In July 2016, this area was devastated by the Sand Fire. Please stay on marked trails as the vegetation and wildlife in the area rehabilitates.
More than 900 acres of chaparral/oak woodland have been preserved along one of the most prominent ridgelines in the Santa Clarita Valley.  After making the steep ascent to the ridgeline, trail users will be rewarded with the rolling terrain and sweeping panoramas from the Placerita Trail.  Several lookout points located along the trail provide exceptional viewing and rest opportunities.  Horse Peak, at 2,391 feet above sea level, lies just south of the trail and is the highest point in Santa Clarita.  For those looking for a longer, more challenging outing, the Nadeau Trail drops you down into the future residential community of Golden Valley Ranch.
Directions
Golden Valley Ranch Open Space is located on Placerita Canyon approximately 1 mile west of Sand Canyon Road Intersection. On the north side of the street there's a gate. Parking is along the road.
View more images at the City's Flickr account
---
SHARE THIS: