While hiking, biking and riding are all important activities to enjoy, our Open Space Preservation District (OSPD) makes it possible to do so. This summer was busy with additions to the greenbelt around the City – the undeveloped land within and outside of the City.
The City purchased more than 13 acres in the Soledad Canyon area adjacent to the City-owned Cemex property. By purchasing this land, we have prevented future mining in this pristine area, and have added to the Eastern Greenbelt region for preservation.
As you enter the Santa Clarita Valley through the Newhall pass, you will enjoy an additional nine acres of preserved open space in the Wildwood Canyon connection.  Currently, trails to connect these open spaces are in the design phase.
The City marked its first acquisition in the northwestern region of our surrounding greenbelt with the purchase of more than 70 acres in Tapia Canyon. This area is popular for mountain biking enthusiast, and will be a great recreation option!
Thank you for continuing to hike, bike, and ride your horses on our trails through Santa Clarita. We are excited to expand our green belt around the City for preservation and for future generations!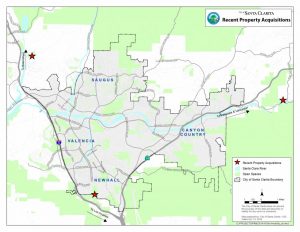 ---
SHARE THIS: