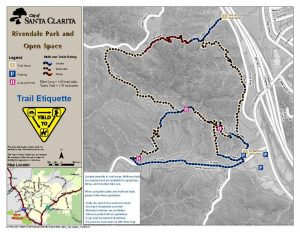 Rivendale Park and Open Space Trails Map
Trails:
Elder Loop – 1.6 miles
Taylor Trail – .30 miles
Difficulty:
Gentle to Moderate
Description:
Located at the mouth of Towsley Canyon, Rivendale was formerly an equestrian and riding center.  From the time the City purchased the site in 1995 it has served as an informal trailhead and public parking for the Towsley Canyon Open Space in the Santa Clarita Woodlands, a park unit of the Santa Monica Mountains Conservancy (SMMC). In 2015, two 1960's era stucco buildings were demolished and the site was cleared to make way for a more formal parking area.   This effort coincided with the City's purchase of an adjacent 118 acres immediately north of the park and the opening of the Elder Trail which created a new, moderate loop trail that ties in with the existing Towsley Canyon trail system.
---
SHARE THIS: